Buy Ziehl-Abegg Axial and Centrifugal Fans from Geforce
Welcome to Geforce, your trusted destination for Ziehl-Abegg Axial and Centrifugal Fans! With our wide range of high-quality and efficient ventilation solutions, we are here to meet all your industrial and commercial cooling needs. Whether you're looking to improve airflow, reduce energy consumption, or enhance the overall air quality in your facility, our Ziehl-Abegg fans are designed to deliver exceptional performance and reliability.
At Geforce, we understand the importance of reliable and effective ventilation systems in various industries, such as manufacturing, agriculture, data centers, automotive, and more. Our Ziehl-Abegg fans are expertly engineered to provide optimal airflow, ensuring proper ventilation, temperature control, and improved working conditions in any environment.
Why Choose Ziehl-Abegg Axial and Centrifugal Fans?
Unparalleled Performance: Ziehl-Abegg fans are renowned for their outstanding performance and efficiency. With cutting-edge technology and innovative design, these fans deliver powerful airflow while consuming minimal energy. Experience superior cooling and ventilation results that exceed your expectations.
Exceptional Quality: We take pride in offering only the highest quality products to our customers. Ziehl-Abegg fans are manufactured with precision and undergo rigorous testing to ensure they meet the highest industry standards. These fans are built to withstand demanding conditions and provide long-lasting, reliable performance.
Wide Range of Options: We understand that every application has unique requirements. That's why we offer a comprehensive selection of Ziehl-Abegg axial and centrifugal fans, available in various sizes, airflow capacities, and mounting options. Whether you need fans for small spaces or large-scale industrial operations, we have the perfect solution for you.
Energy Efficiency: Energy consumption is a significant concern for many businesses today. Ziehl-Abegg fans are designed with energy efficiency in mind, helping you reduce operational costs and minimize your environmental impact. By choosing our fans, you can optimize your ventilation system while saving on energy expenses.
Silent Operation: In environments where noise levels are a concern, Ziehl-Abegg fans offer whisper-quiet operation. These fans are equipped with advanced noise reduction features, ensuring a peaceful working environment without compromising on performance.
Expert Support and Service: At GeForce, we strive to provide exceptional customer service. Our team of knowledgeable professionals is ready to assist you in selecting the right fan for your specific needs. We offer technical guidance, installation support, and after-sales service to ensure your complete satisfaction.
Experience the Difference with Geforce and Ziehl-Abegg Fans:
Invest in the superior performance and reliability of Ziehl-Abegg axial and centrifugal fans, available exclusively at Geforce. We are committed to delivering top-notch ventilation solutions that enhance your productivity, improve air quality, and contribute to a comfortable working environment. Trust in our expertise and let us help you find the perfect fan solution tailored to your requirements. Contact us today to explore our range of Ziehl-Abegg fans and take the first step toward efficient and effective ventilation systems.
Get Everything Under One Roof
Customized Solutions: At Geforce, we understand that every ventilation requirement is unique. That's why we offer customized fan solutions to meet your specific needs. Our team of experts works closely with you to assess your facility, understand your airflow requirements, and design a tailor-made ventilation system that optimizes efficiency and performance.
Robust and Durable Construction: Ziehl-Abegg axial and centrifugal fans are built to withstand demanding operating conditions. Constructed from high-quality materials, these fans are designed for durability, ensuring reliable performance even in harsh environments. Count on our fans to provide years of trouble-free operation.
Advanced Control and Monitoring: Enhance the functionality of your ventilation system with advanced control and monitoring options available with Ziehl-Abegg fans. From variable speed drives to intelligent control systems, these features allow you to optimize fan speed, adjust airflow, and monitor performance in real-time, providing precise control over your ventilation system.
Compliance with Industry Standards: Ziehl-Abegg fans comply with stringent industry standards and regulations, giving you peace of mind knowing that you're investing in products that meet the highest quality and safety requirements. Whether you require fans for industrial processes, cleanrooms, or hazardous environments, our range of Ziehl-Abegg fans ensures compliance with relevant industry guidelines.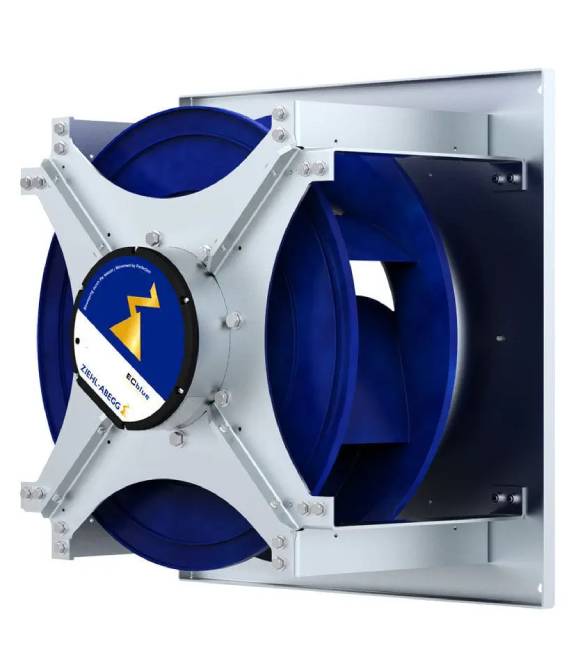 Choose Geforce for Superior Ventilation Solutions:
Geforce is your reliable partner for Ziehl-Abegg AXIAL AND CENTRIFUGAL FANS. Experience the difference of our top-quality products, customized solutions, and exceptional customer service. Whether you require fans for industrial applications, commercial buildings, or specialized environments, we have the expertise and product range to meet your needs. Trust in Geforce for reliable, efficient, and high-performance ventilation systems that exceed your expectations. Contact us today to explore our complete range of Ziehl-Abegg fans and start optimizing your ventilation requirements.