Since its inception in 2013, Geforce Electromechanical LLC is has made every effort to meet our valued clients' cooling demands and Refrigeration Equipment's requirements. Our products are well recognized for maximum cooling efficiency, low power consumption, and extended service life since they are designed in accordance with confirmed industry standards. We have been able to accomplish excellence and perfection in designing and producing industrial and commercial refrigeration equipment with the help of our modern technology, and as a result, our company has acquired a prominent place in the local market. We have emerged as a premium solution provider in the industrial process cooling arena as a result of his acute commercial acumen and focused initiatives.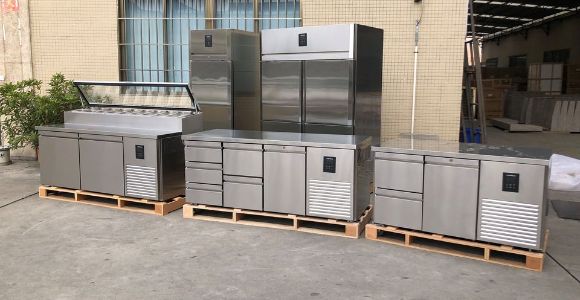 Commercial refrigeration equipment includes refrigerators and freezers found in supermarkets, convenience stores, restaurants, and commercial kitchens. Commercial refrigeration equipment can be "self-contained," with the refrigerated case and full refrigeration system integrated into a single physical unit, or "remote condensing," with the compressor and condenser located apart from the refrigerated case. Self-contained containers with solid or glass doors are typically encountered in food-service establishments called "reach-ins." Refrigerated display cases, which are commonly found in supermarkets, are remote condensing and can be open or closed.
Install High-Quality Refrigeration in Your Kitchen. We have a wide range of dependable refrigeration equipment to assist you maintain your food at the right temperature. To meet your food service needs, choose from a range of blast chillers, under-counter refrigerators, chilled prep tables, and more! Commercial refrigeration is more powerful and geared to meet health code requirements.