Buy Best Pavailler Bakery Oven from Geforce
Welcome to Geforce, your trusted source for Pavailler bakery oven spares and installation in the UAE. As a leading supplier in the region, we are dedicated to providing high-quality products and exceptional service to meet all your bakery oven needs.
At Geforce, we understand the importance of having reliable and efficient bakery equipment to ensure the success of your business. That's why we specialize in offering a comprehensive range of Pavailler bakery oven spares that are designed to enhance the performance and longevity of your equipment. Whether you require heating elements, thermostats, timers, fans, or any other spare parts, we have you covered.
Our team of experts is well-versed in bakery oven technology and is committed to assisting you in finding the perfect spare parts for your specific requirements. We work closely with Pavailler, a renowned brand known for its innovation and quality, to ensure that all the spares we supply are genuine and compatible with your bakery ovens. With our reliable spares, you can minimize downtime, increase productivity, and maintain consistent baking results.
In addition to supplying top-notch spares, we also provide professional installation services for Pavailler bakery ovens. Our skilled technicians have years of experience in handling oven installations and will ensure that your equipment is set up correctly, following industry standards and guidelines. We prioritize efficiency and precision to ensure that your bakery oven is fully operational in no time, allowing you to focus on what you do best: baking delicious treats for your customers.
Customer satisfaction is at the heart of everything we do at Geforce. We strive to deliver a seamless and hassle-free experience from the moment you contact us until the successful completion of your project. Our friendly and knowledgeable customer support team is available to answer any questions you may have, provide technical assistance, and offer personalized recommendations tailored to your bakery oven needs.
Whether you run a small bakery or manage a large-scale production facility, Geforce is your trusted partner for all your Pavailler bakery oven spares and installation requirements in the UAE. With our dedication to quality, reliability, and exceptional service, we aim to exceed your expectations and contribute to the success of your bakery business.
Contact Geforce today and let us help you keep your bakery ovens running at their best, ensuring the perfect bake every time.
Why to choose only Pavailler Bakery Oven?
Pavailler Bakery Oven is meticulously designed to meet the demands of both professional bakers and baking enthusiasts. With its sleek and modern exterior, it not only adds a touch of elegance to your kitchen but also signifies the high-quality performance that lies within.
One of the key features of the Pavailler Bakery Oven is its precise temperature control. We know that baking requires accuracy, and that's why we have equipped our oven with advanced temperature sensors and controls. Whether you're baking delicate pastries or hearty bread, you can rely on the Pavailler Bakery Oven to maintain the perfect temperature for consistent and evenly baked goods.
The deck ovens from Pavailler are true experts at baking your bakery, pastry, and snack goods. In order to satisfy your needs and solve your issues, Pavailler, a specialist in bakery equipment, has worked on a variety of bakery ovens. Due to their ability to be built in on all three sides, compact electric ovens are ideal for small bakeries. Gas ovens enable precise bread baking while lowering your energy.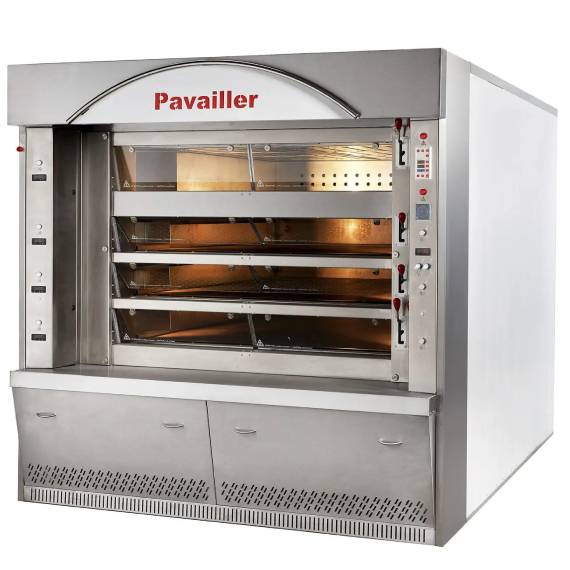 Another standout feature of our oven is its spacious interior. We understand that bakers often need ample space to accommodate multiple baking sheets or large cake pans. With the Pavailler Bakery Oven, you'll never have to worry about running out of room. Its generous capacity allows you to bake multiple batches simultaneously, increasing your productivity and saving you valuable time.
Safety is a top priority for us at Pavailler, which is why our Bakery Oven is equipped with advanced safety features. The oven is designed to prevent overheating and comes with a built-in timer and auto-shutoff function, ensuring that your baked goods are perfectly cooked without any risk.
Cleaning up after baking can sometimes be a hassle, but not with the Pavailler Bakery Oven. We have incorporated easy-to-clean materials and a removable crumb tray, making maintenance a breeze. Spend more time doing what you love – baking – and less time worrying about cleanup.
At GeForce, we take pride in providing our customers with not just top-of-the-line products but also exceptional customer service. Our knowledgeable team is always ready to assist you, whether you need help with choosing the right oven or require technical support after your purchase. We strive to build long-lasting relationships with our customers, and your satisfaction is our ultimate goal.
Elevate your baking experience with the Pavailler Bakery Oven from GeForce. Discover the perfect balance of precision, functionality, and style, all in one extraordinary appliance. Place your order today and unlock a world of baking possibilities. Trust us, the Pavailler BAKERY OVEN SPARES AND INSTALLATION will be the perfect partner in your baking journey.